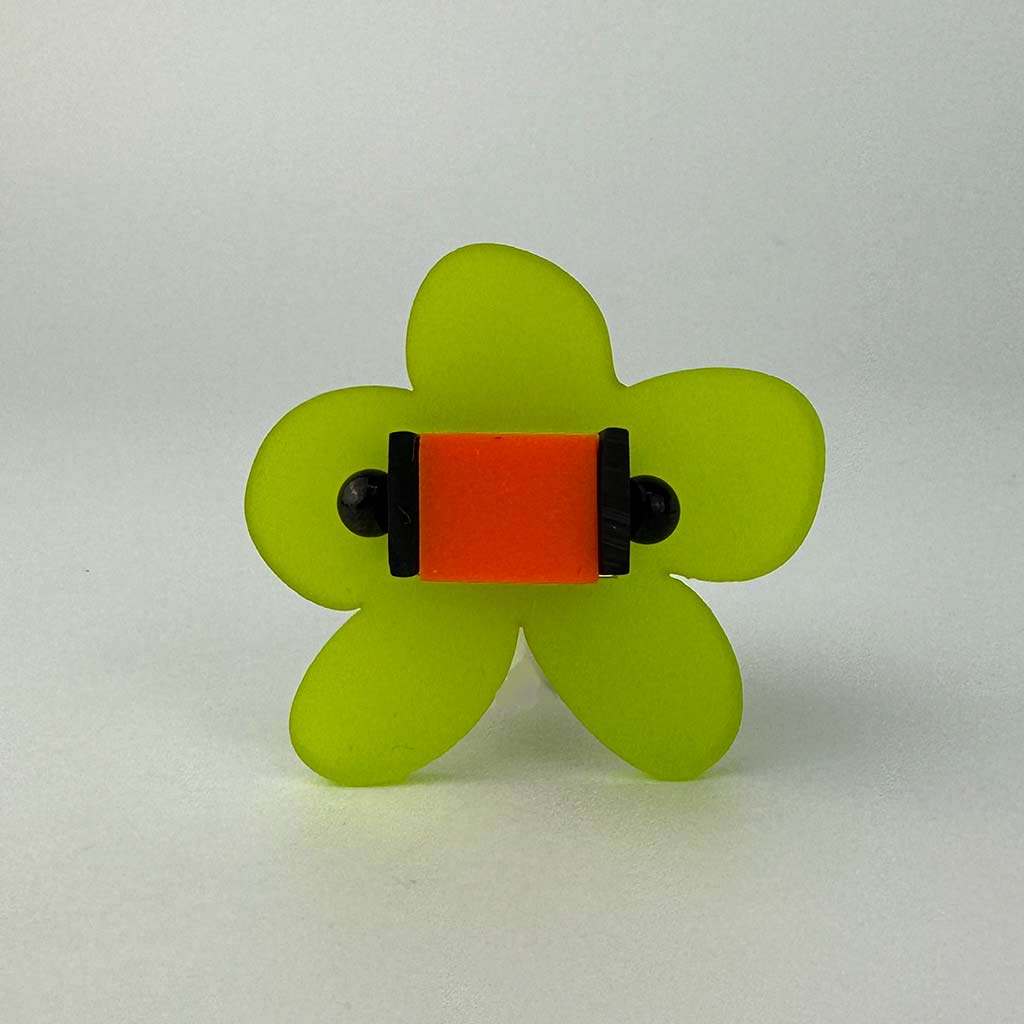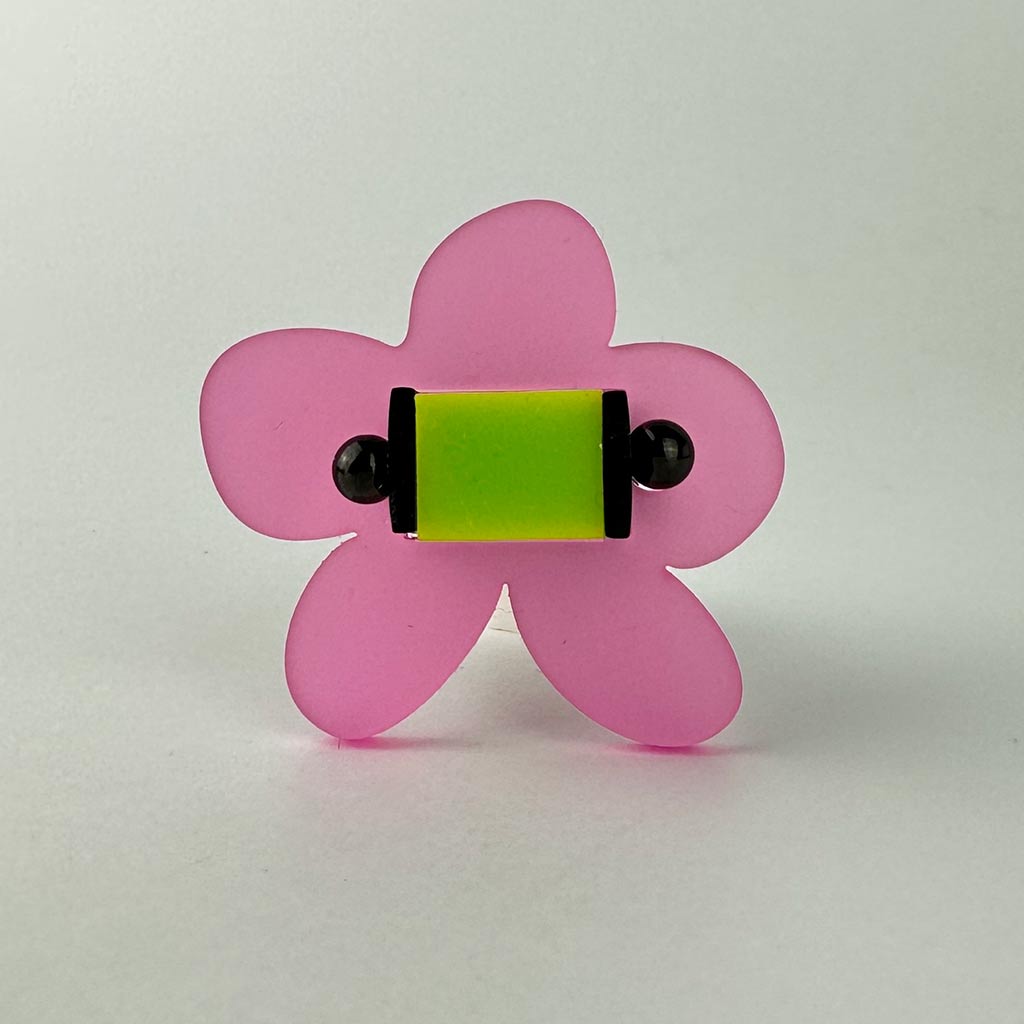 Do you remember when Mary Quant* was the epitome of all that was stylish, bold, bright and fun?
These graphic flower shape rings are my homage to her. 
Of course, the flower is a slightly different profile but I hope they remind you of her sense of adventure and freedom of spirit.
It's rare that I feel like wearing a mini skirt these days but I still love a pop of colour and an unexpected mix of shapes.
They are the perfect addition for a fun, bold blocks of colour.
Very bold, very modern. This design is an easy way to add a splash of colour and conversation to your wardrobe. 
Perspex flowers with rubber centres and a comfortable rubber band.

width of rubber band of ring 10mm 

The Perspex is frosted and semi translucent, except for the black which is a solid matt finish.
Sizing: These come in 3 sizes. Most people will find the medium is the size they will find comfortable. Because the focal shape is large and the band itself is quite wide (10mm) the ring stays on comfortably even if it is a little loose.
I've been selling these to lots of galleries and boutiques and Medium is the size that most of their customers choose.
If you have tiny hands the small might be the right size for you if you only wish to wear the ring on your pinky or ring finger but if you want the option to wear on your middle, pointer or thumb you will probably want the medium
If you wear your rings on your thumbs or have arthritic joints, or have fingers that swell in the heat then you might consider the large size.
NB You should not plan on washing your dog, swimming, showering or wearing your fabulous ring to the beach. Its decorative, designed to look amazing but not designed for manual tasks...take it off if you have to do something messy!
 *if you don't know who Mary Quant was...google her. One of the great British fashion designers.
Shipping Information
Free Shpping
Frank Ideas offers free domestic shipping for all purchases over $150AU.
Domestic Shipping
For orders under $150, there is a Shipping fee of $10 Australia wide.
I endeavour to ship orders within 4 business days of receiving payment (in the case of e-cheques, once they have cleared),

If you are concerned your order may not arrive in time for a special occasion, such as a holiday or birthday, please ask so I can let you know if it is possible or not. Although I cannot guarantee delivery by a particular date, I will do my best!

International orders
For orders under $200AU there is a $20AU flat rate shipping fee to International destinations
All orders shipped outside of Australia are sent via Australia Post International Airmail.
You will be sent a tracking number onde your item has been shipped. Depending on the product, some orders are shipped as letters/documents (printed matter) and others as parcels.
In accordance with Australia Post requirements, all parcels are shipped with a customs slip.

Refunds & Returns
Refunds & Returns
I want you to be excited with your purchase. If there is a problem, for some reason, please contact me because I'm sure we can work together to sort it out!

Returns are accepted, except for custom work, within 7 days of receipt. It is important that you contact me first if you need to return an item. Any item returned must be sent with tracking information.
 Please return items in the same condition as you received them. Once the item has been received in original condition a refund will be issued, minus shipping charges. You are responsible for return shipping charges.
For detailed instructions please refer to the Return and Refund Policy in the footer at the bottom of this page.
More Questions
More Questions?
Have a question that's not answered here? Send me an email and I'll get back to you with the answer within 72 hours: rowan@frankideas.biz
• Light and easy to wear
• Feel Fabulous, effortlessly
• Always a conversation starter
Love love love! Super excited!
Who designs the jewellery?
Everything is designed by Rowan Shaw (owner, designer, maker and general dogs body at Frank Ideas) in her studio in Alexandria, Sydney, Australia.
Read More