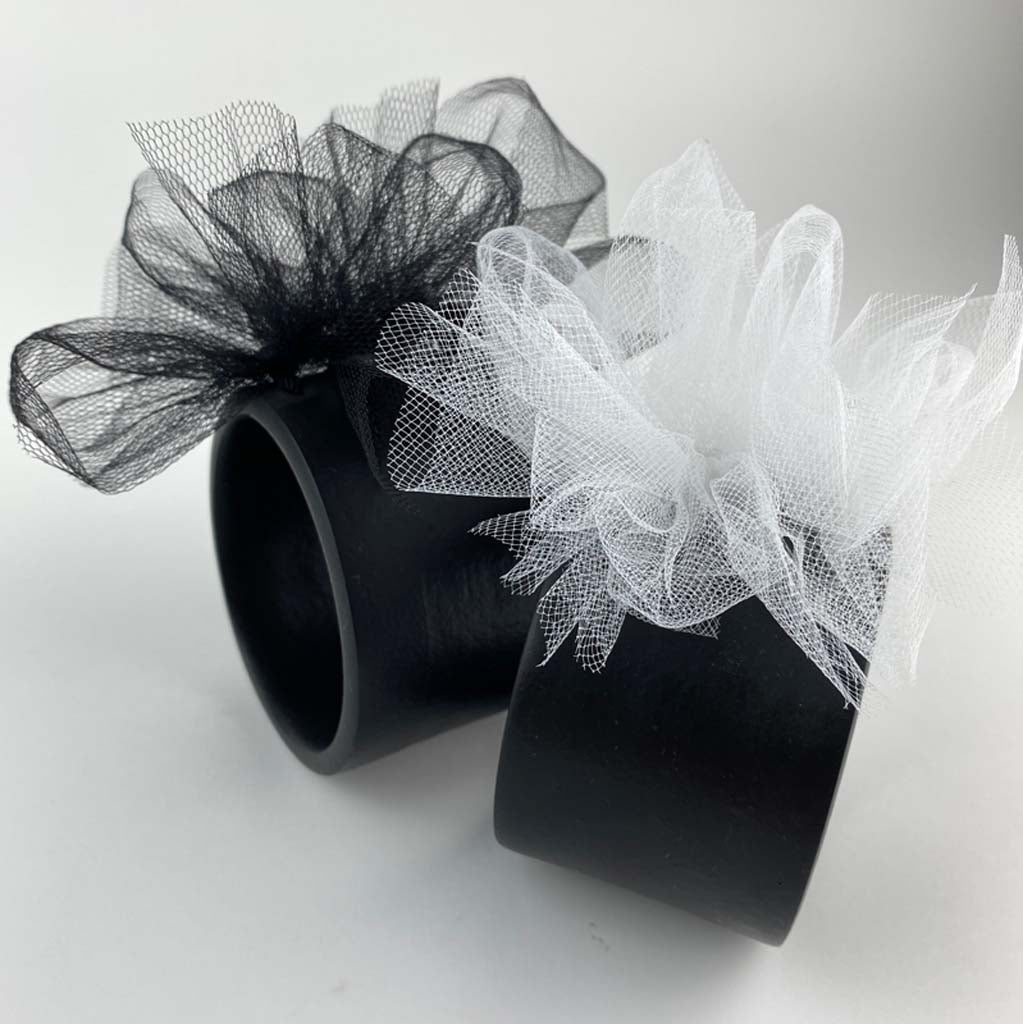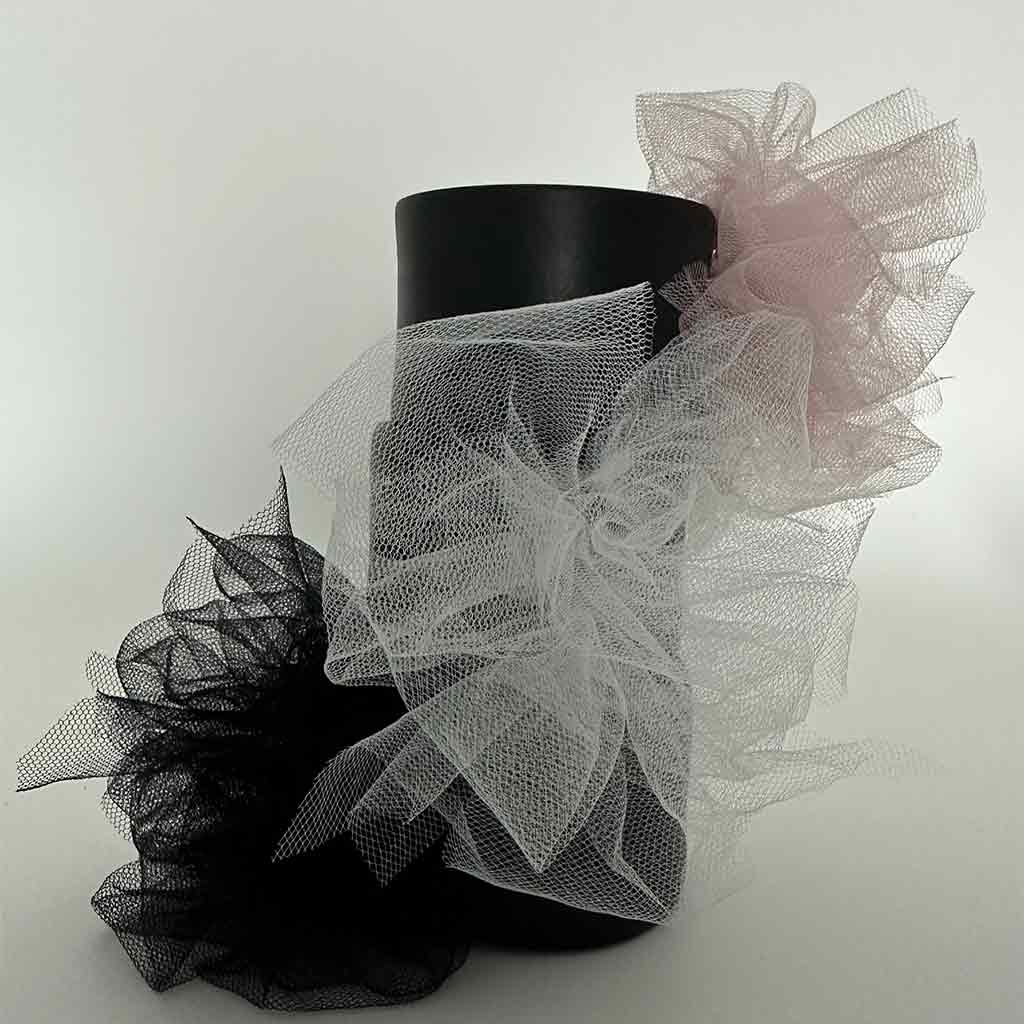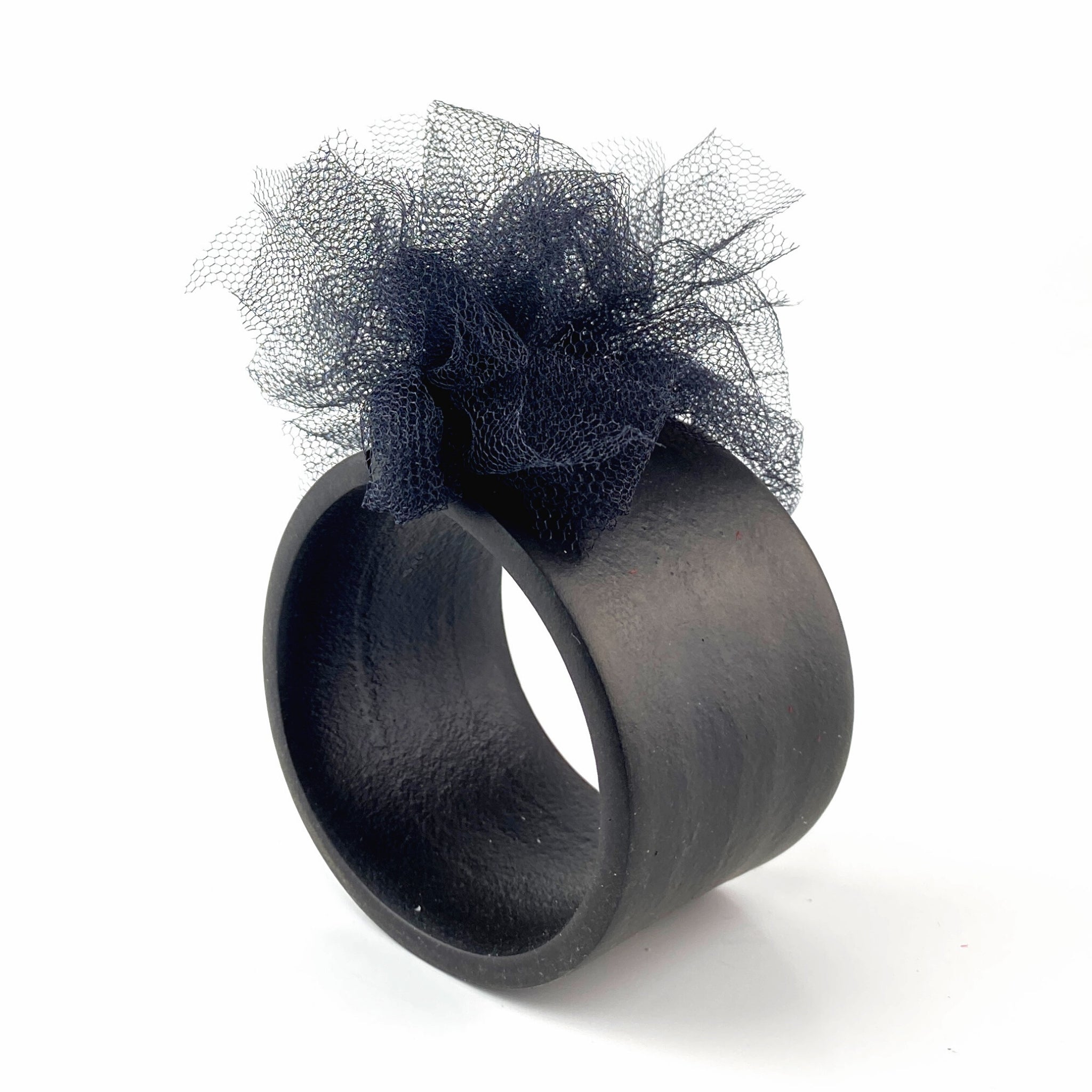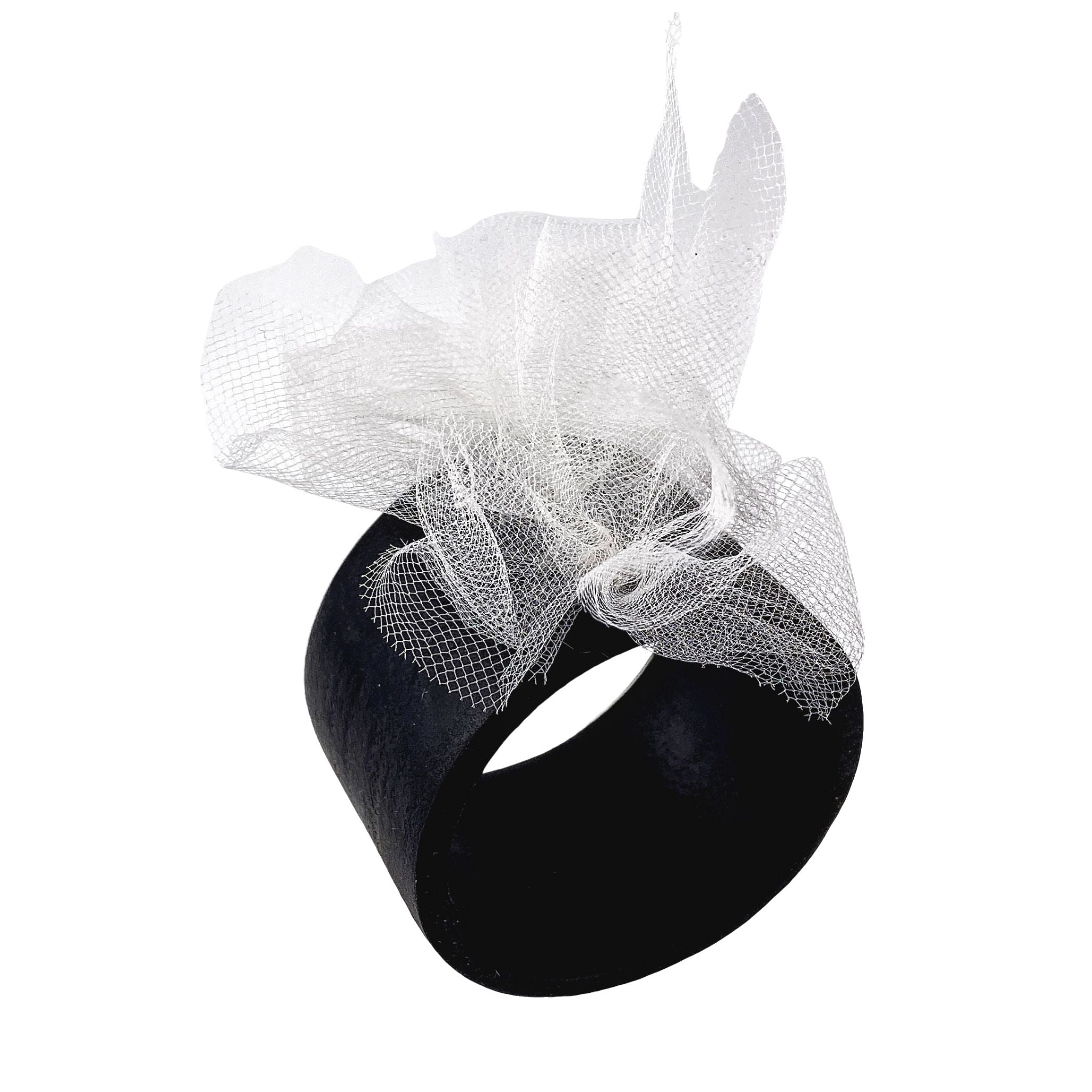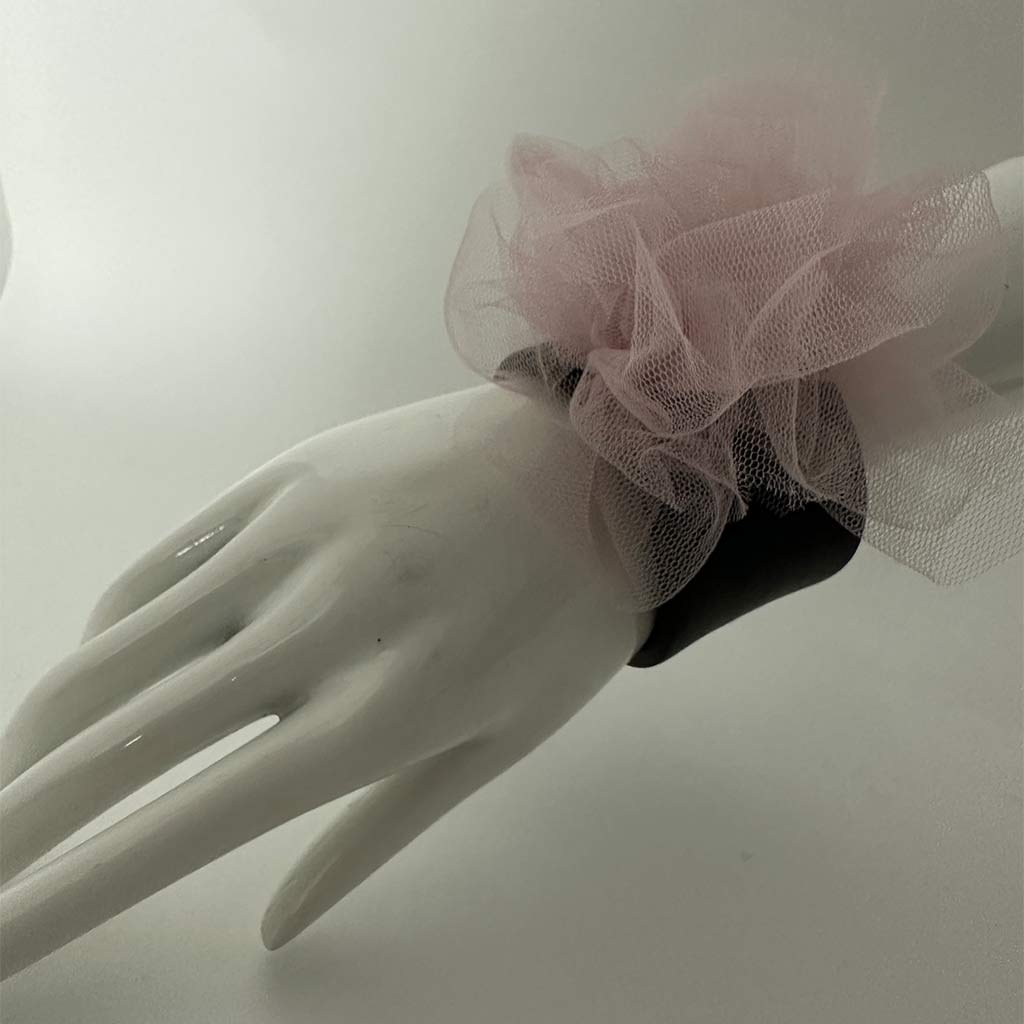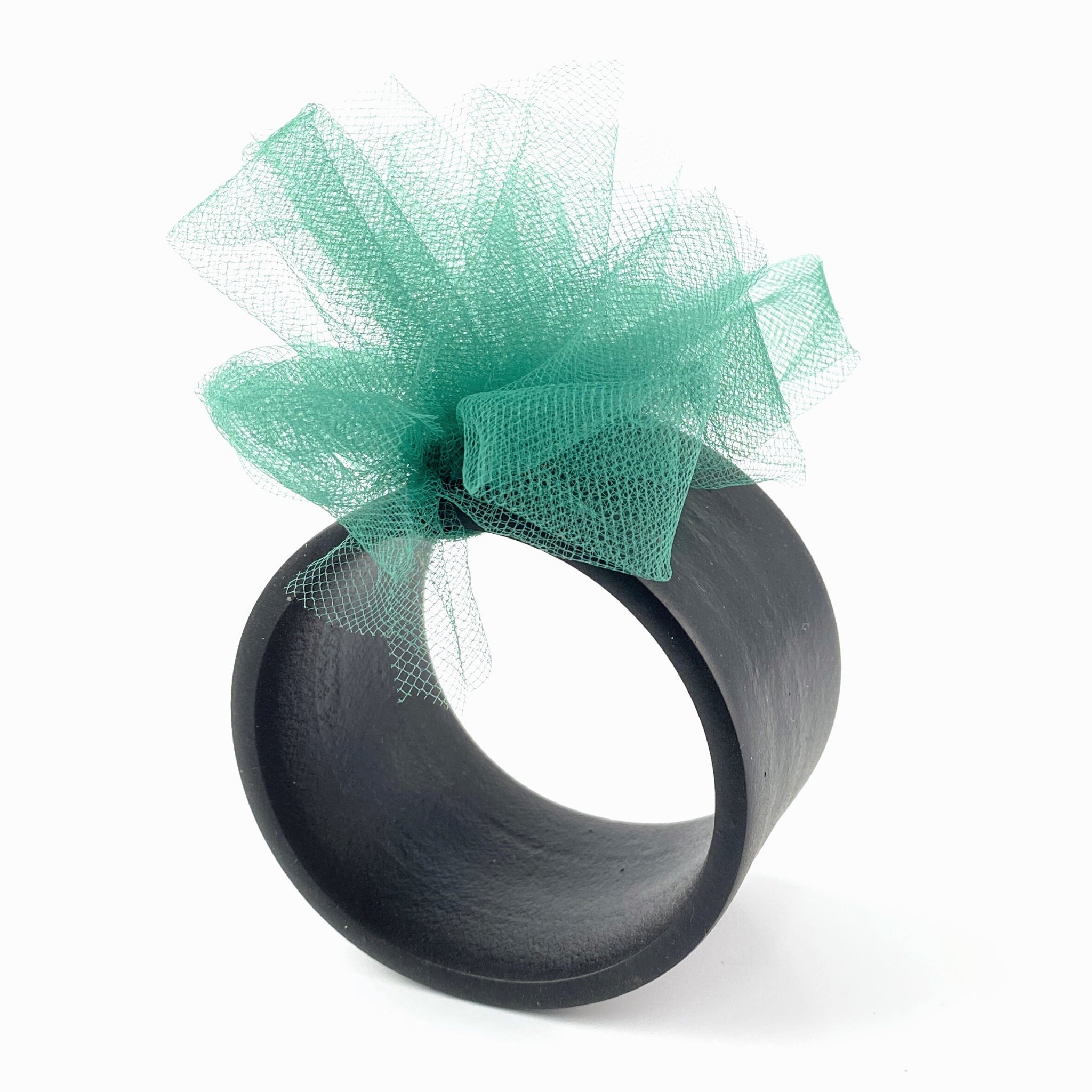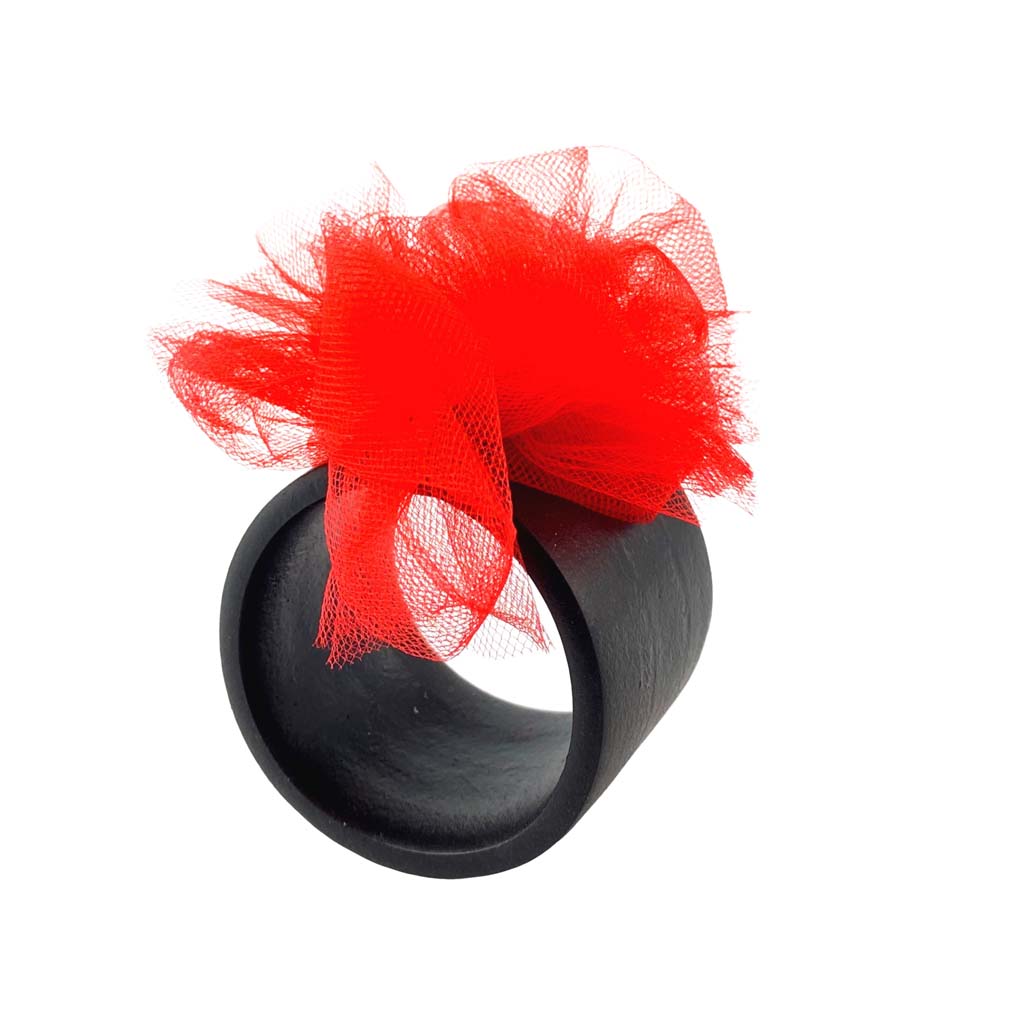 Wide rubber bangle with tulle detail.
Special occasion? ... wear this.
It will get you through the event of your life and the evening of your dreams while still keeping your street cred and reputation for not being one of those run of the mill girls who bought their total look from a "pinterest suggests" page.
If you are staying home (very wise!) but want to add a little glamour to your life...this soft rubber bangle will do it...every, single, time! 
Width; 50mm  (1.96 inches)
NB the bangles are rubber so will stretch to fit comfortably over most hands so you can choose slightly smaller than you would for a resin bangle and still have it fitting comfortably on your wrist.

To work out the correct size bracelet:
Make a fist of the hand the bangle is to be worn on and measure the length from the outside of the first knuckle to the point between the third and fourth knuckle. -see the last image
This measurement equals the required diameter of your bangle.
for example, if the measurement comes to 6.5cm, then a 6.5cm (inside diameter) bangle should fit your hand.

Inside diameter:
small 6 cm / 2.4 inches
medium 6.5cm cm × 2.6 in

Shipping Information
Free Shpping
Frank Ideas offers free domestic shipping for all purchases over $150AU.
Domestic Shipping
For orders under $150, there is a Shipping fee of $10 Australia wide.
I endeavour to ship orders within 4 business days of receiving payment (in the case of e-cheques, once they have cleared),

If you are concerned your order may not arrive in time for a special occasion, such as a holiday or birthday, please ask so I can let you know if it is possible or not. Although I cannot guarantee delivery by a particular date, I will do my best!

International orders
For orders under $200AU there is a $20AU flat rate shipping fee to International destinations
All orders shipped outside of Australia are sent via Australia Post International Airmail.
You will be sent a tracking number onde your item has been shipped. Depending on the product, some orders are shipped as letters/documents (printed matter) and others as parcels.
In accordance with Australia Post requirements, all parcels are shipped with a customs slip.

Refunds & Returns
Refunds & Returns
I want you to be excited with your purchase. If there is a problem, for some reason, please contact me because I'm sure we can work together to sort it out!

Returns are accepted, except for custom work, within 7 days of receipt. It is important that you contact me first if you need to return an item. Any item returned must be sent with tracking information.
 Please return items in the same condition as you received them. Once the item has been received in original condition a refund will be issued, minus shipping charges. You are responsible for return shipping charges.
For detailed instructions please refer to the Return and Refund Policy in the footer at the bottom of this page.
More Questions
More Questions?
Have a question that's not answered here? Send me an email and I'll get back to you with the answer within 72 hours: rowan@frankideas.biz
• Light and easy to wear
• Feel Fabulous, effortlessly
• Always a conversation starter
I live this black bangle. It's fun and frothy
A green joy
Love it 😍 And love wearing it. It's a comfortable tight fit and a fun piece to wear. The bangle makes me smile 😀. Thank you for creating it.
Funky, fun, elegant wear it your way!
I love my new tulle & rubber bracelet! It is so fun, funky but can be worn very elegantly. It's versatile whatever your style.
I'm so glad I got it...may need to buy the black with white tulle. Thank you for a great addition to my collection. I look forward to wearing it once COVID-19 is under control, it's safe to go out and we are out of lockdown
Who designs the jewellery?
Everything is designed by Rowan Shaw (owner, designer, maker and general dogs body at Frank Ideas) in her studio in Alexandria, Sydney, Australia.
Read More